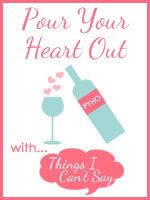 I told you about the fight between 2 people I love very much. Well it's only gotten worse. And I keep letting it bother me. I keep worrying about it and letting it keep me up at night. But it's time that I stop. I think they're both wrong. But neither one will admit it. I also think they're both right. But again, neither one will admit that the other one might be right. How can that be the case you ask? How can they both be wrong AND right at the same time? Easy. There's always 3 sides to every story. There's my side, your side, and the whole truth. Unfortunately, the truth is often clouded by our judgment and we can't see through our own hurt and anger.
I could tell you WHY A acted a certain way. I could tell you that it's because she was protecting her children and her family. But that doesn't matter. I could tell you why B acted a certain way. I could tell you that it's because she was protecting HER family. But again, it doesn't matter. Because the hurt and anger is so deep that it'll probably never go away. And that sucks. For all of us.
It sucks for me that I've lost someone I thought I was close to because the feud is more important than me. It sucks for A and B because they're both so angry they're saying and doing things that they would never say or do to anyone else. It sucks for C because she feels like she's caught in the middle and she doesn't want to hurt or upset either one of them, even though it's tearing her up inside.
So it's time I TRY to stop worrying about it. It's time I wash my hands of it. It's time I realize that yeah, I'm not that important after all and that it's not my fight to fight. It's time I start focusing on the things I CAN change, and ACCEPT the things I cannot change. It may not give me Serenity, but it may give me back a little bit of SANITY.