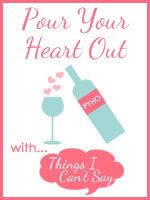 I told you one of my goals is to lose weight. I haven't updated lately on all my goals, so I'll have to do that soon. I've decided to only do it once or twice a month, so I'll get around to it. Eventually. ;)
Anyway, back to the other goal. I've still only lost 11 lbs. I'm stuck. And getting VERY frustrated. At what point do I say, I'm not going to look like Jennifer Aniston, so why bother? At what point do I say, if you don't like me simply because of how I look, then that's YOUR problem, not mine? At what point do I say, I'm in a crappy mood all of the time worrying about it, so why do I keep bothering? At what point do I say, as long as I start making better choices about the things I eat MOST of the time, then what's wrong with not looking like a super model?
I GET that it's unhealthy. I understand that. But honestly, I can't remember when I WASN'T overweight. And no, I'm not happy about it, but maybe there's worse things I could be? I'm not a drug addict. I don't beat my kids. I'm not a thief. Does being overweight make me a bad person? I don't think so, but I think other people do. I think a lot of people don't take the time to get to really know me because I don't fit the "ideal" of what I should be. I never have been. But that doesn't make me a bad person. I LOVE my kids. I LOVE my husband. I LOVE my family and friends. Shouldn't I be judged on THOSE things instead of how I look?
I've spent most of my kids lives telling them not to judge people by the way they look. There is no black and white. There is no rich and poor. There is no smart and dumb. People are PEOPLE. First and foremost. Get to know them, before you decide whether or not you want to be friends with them. Don't judge them on the way they look. Judge them on who they ARE. And I think they're pretty good about following that. So if my kids can see past the way people look, then why can't adults? Aren't WE supposed to be setting good examples for our children? For the future generation? Aren't WE supposed to be teaching them how to grow up to be respectful and trustworthy? How can we expect THEM to do those things, when we don't do them ourselves?