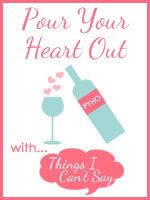 Have you guys heard of Cop's Wife? If not, you need to check her out. At times she's funny. Other times she's heartbreaking. But she's always inspiring. If you have been reading her, then you know where this is going. If not, then you need to check her out. I promise you won't be disappointed.
Anyway, back in November she wrote a post that went VIRAL. That's how I discovered her. You can read that post
HERE.
I STRONGLY recommend reading it. I promise you won't be disappointed. That was back in November. Since then, she's received a lot of positive feedback, (THANKFULLY), but she's also received some negative feedback from basically the last place it should have come from. You can read that post
HERE.
Now for MY thoughts on the subject. When I read the first post, I couldn't believe that ADULTS were saying those things. ADULTS. In front of a child. A CHILD. Let's be clear here people. Boo is 5 years old. FIVE YEARS OLD. SERIOUSLY? I'm a girl. And I have a brother that is 1 year and 10 days younger than me. Do you know how many times I played cars with him on the fireplace fan pretending like it was a car ramp? Or how many times he played school or dolls with me? We were CHILDREN. Did my parents freak out that he was playing dolls or school? Or that I was playing cars? NO. Because we were CHILDREN. You get the point, right?
I have 3 children. Jason is almost 12. Andrew is 9 and Sarah Beth is 3 1/2. My boys like boy things. They like Ben 10, Backugan, Star Wars. Sarah, being the youngest of the 3, she plays with her dolls and her strollers, but she's just as likely to be playing Ben 10 or Star Wars with her brothers. And from the time Andrew was about 2 years old, he's LOVED cooking, cooking shows, and anything about cooking. We bought him a kitchen when he was 3. (Actually my parents bought it for him for Christmas). And he LOVED that kitchen. But he was a boy. He wasn't SUPPOSED to have a kitchen, right? My guess is that if ABC had seen that he had a kitchen, they would have made sure that I knew that it wasn't "right". Really? Who are YOU to tell me what's right or wrong for my children? The only 2 people that get to decide those things are me and their father. They are OUR children. Not yours. And if you have a problem with him having a kitchen, oh well. For all you know he could be the next Emeril. I bet you won't be making fun of him then, will you?!
If you know me well, you know that "bullying" is my hot button. And that's EXACTLY what those women were doing. They were BULLYING Cop's Wife and Boo. How sad is that? You are a GROWN woman and bullying a child makes you feel better? What does that say about the type of person that you are? Am I being judgmental? You bet I am. You know the difference between you and I? You actually DID something to cause that judgment. I didn't just look at you and decide that you were not a person I want around me or my kids. I heard about the things you said. And you don't deserve to be around my kids. Sure you go to church and you send your kids to a church school and I don't. But that doesn't make you better than me. You're an example of one of the people I am talking about
HERE
that probably wouldn't like me because I don't go to Church regularly. But YOU'RE one of the people that I DON'T want around my kids even though you go to church on Sundays, and I don't.
And then I read the 2nd post, and I was even MORE disappointed. Yes, I know not all churches are like that. I get that. But her church is. The same church that she volunteers at, PAYS to send her kids to, attends services every Sunday. The same church that is supposed to be her religious family. The same church that wants things from her, but can't support her during this time. The same church that NOT ONE TIME asked how Boo was doing. That's NOT the type of church she, or anyone else for that matter, belongs in.
I have so many thoughts about this topic going through my head, and I don't even know what to say or how to say it. You see, there are bullies everywhere. Most people think of bullies as the kid that beats you up on the playground or takes your lunch money. But they're not the only ones. What about the ones that say you can't be my friend because you're too poor, or too fat, or too dumb, or not a cheerleader, or not an athlete? They're still bullies. Make no mistake: Anyone that puts someone else down to make themselves feel better, is still a bully, whether they hit you, or steal from you or call you names. They're still a bully. And it's bad enough when they're kids or teenagers. But when you're an adult and you're still doing it? What does that say about you? Do you know what it tells me? It tells me that the only way you can feel good about yourself is by making others feel bad. It tells me that you are insecure. And childish. And anything BUT a Christian. And MOST DEFINITELY a BULLY!
I have a lot more to say, but I think you get the picture, so I'll shut up now. Thanks for listening.