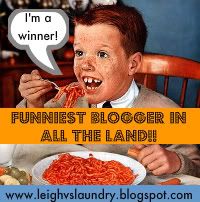 Leigh over at
Leigh vs. Laundry
has something that she calls Freakshow Friday. On Fridays she posts an outrageous looking picture, and you're supposed to come up with the best "tagline" for it. Well lucky me, I won last week's Freakshow Friday. So that means I'm the Funniest Blogger In All The Land.
At least until next week!
(Click the button above to see the picture and my winning answer).