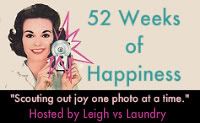 Leigh over at
Leigh vs. Laundry
has a project that she calls 52 Weeks Of Happiness. Basically, you are supposed to scout out Happiness in your life and post about it every Tuesday. Since I MISERABLY failed at the Project 366 (a picture a day, every day, for one year), I'm thinking maybe even *I* can do 1 picture a week. Of course I'm starting late, but then again, anyone that knows me knows that I'm ALWAYS late, so really, it's right on time for me. Right?
So here's my first picture. I posted it already on another post, but that's okay.
Last Friday night Andrew's school had a Parent/Child Dance. We had a REALLY good time. And I got to have some quality time with my favorite 10 year old. And let me tell you, my boy can DANCE! :)
I went on the 4th Grade Field Trip with Andrew's class. They went to the state capital, Frankfort. It was fun touring the city with the kids, even though it was raining.
At least once a week when I pick up my camera I find a picture of Sarah Beth. She LOVES taking pictures, especially of herself. This one cracks me up. Not sure what that face is all about!
Those are my pictures for the week. I'm going to do my best to stick to THIS Picture Project. Wish me luck. I think I'll need it.