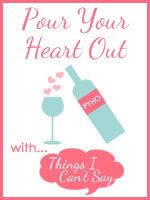 To go along with my New Years Goal of writing more often, I've decided to follow some other blogs and write about their suggestions. Shell at Things I Can't Say has Pour Your Heart Out Wednesdays. I've read some amazing stories on there.
I would love to pour my heart out. My problem is, I feel like I have to censor everything I say because I am not "anonymous." If I was, I could really talk about what I want to without worrying about hurting anyone's feelings, or making anyone mad, or having someone laugh at me and tell me I'm stupid. But I don't have that option. Because I'm not anonymous.
If I was, I could tell you about the fight between 2 people I care about, and how it's tearing me up inside. I could tell you how I'm so disappointed in C because she has chosen to get in the middle of this fight, even though she doesn't belong there. In the process she has hurt B, who has done some amazing things for her over the years. But I guess none of that's important now. Because A is the side she's "chosen" and B can just pretty much to go Hell and take her money and time and shoulder to cry on with her. I could tell you how I've "chosen" to be on B's side, but I still love A and would never intentionally do anything to hurt her or make her mad.
I could also tell you that I'm wondering why *I* have to be the bigger person, when no one else does. I could tell you that I'm wondering if any of them ever really loved me if they let a fight with someone else, get in the way of spending time with me, or calling me, or checking on me to see how I'm doing. I could tell you that I'm being just as selfish because I don't make the effort anymore either. I was told by B to stay out of it and not treat A any differently because it wasn't my fight. And she's right. It's not. So I did stay out of it. Or at least I tried to, until I found out that it's not just A and B's fight anymore. Now it seems the rest of the peanut gallery is getting involved in it too. So if they are, then why can't I? Does that make me sound petty? Probably. Does that make me selfish? Probably. Does that make me a bad person? Maybe.
But you see, I can't tell you those things, because everyone knows who I am. And now everyone knows that I am petty, selfish and a bad person.