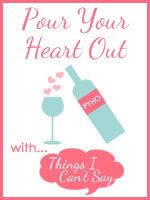 Okay, for those of you that go to church every Sunday and think that it's the most important thing in the world, then you're not going to like this post very much. Because I DON'T go to church every Sunday. As a matter of fact, I very rarely go. I used to go. All the time. I was raised to go every. single. Sunday. No matter what. And even when I was in college, I still continued to go almost every Sunday. I went to the Newman Center at EKU and we had an AMAZING Priest there. He made us all want to go to church. He always had something important to say. And he always made US feel special and important.
But then I graduated. And I did go for awhile. But now I very rarely go. And honestly, I'm okay with that. I know I may not go to church every Sunday, but I don't think that makes me a bad person. I still love my family. I take care of my kids. I try to be there for my friends and family when they need me. I respect people. I care about people. I listen to people. I BELIEVE in God. I KNOW He's there, and I pray to Him, and I talk to Him when I need to. And I'm teaching my kids that there is a God, and even though we can't see Him, He is always there for us. I tell them every day that they're the greatest gift God ever gave me. But I don't go to church.
Maybe you think that makes me a bad person. And you're entitled to your opinion. But *I* don't think that makes me a bad person. I know A LOT of people that go to church every Sunday, and I wouldn't want them around my kids. I know people that think going to church on Sundays makes them better than everyone else. They think going to church means they can do whatever they want during the week. But they're not really listening when they're there. They're just THERE so they can say they go. But during the week, they talk bad about people. They don't really care about people. They don't care about others feelings. They're disrespectful. They don't listen to the needs of those around them. But they go to church on Sunday. So they're a better person than me.
Now don't get me wrong, I know A LOT of people that go to church every Sunday and they're AMAZING people. My parents for example. They go to church every Sunday. They belong to a prayer group that meets twice a month. My mom belongs to another one that meets once a month. They're always there to help my brother and I, whatever we need. When my grandmother was sick, my parents had her live with them for awhile before she went into the nursing home. And my mom took care of her every day. When they had friends and family that needed a place to stay when they were in between moves, they opened their home to them. When their nieces needed help, they helped them. Because that's what God would have wanted. So yeah, they go to church and they live the Christian lifestyle every day. Do they mess up? Sure they do. They're human. But they have good hearts. They try to do the best they can. And NOT just during the one hour of church on Sunday.
But I also know a lot of people that DON'T go to church every Sunday and I still think they're amazing role models for my kids. And I would love for them to spend as much time with them as possible. My brother for example. He doesn't go to church on Sundays. Hasn't for a long time. But you'll be hard pressed to find a kinder, gentler, more giving person than him. Yeah, he doesn't go to church on Sundays, but he shows what it means to be a Christian EVERY. SINGLE. DAY. Just ask the girls he's coached for years and years. He definitely doesn't do it for the money! He does it because he loves his job and he loves working with kids and he loves teaching them how to be better ball players. And they LOVE him. You can't go anywhere with him without running into a former player or a former player's parent. And some of his closest friends? Parents of the girls' he's coached over the years. He doesn't coach them anymore, hasn't for years, but the parents know what a good person he is and they enjoy spending time with him. But he doesn't go to church. So if you think someone that doesn't go to church is a bad person, then you'd never get to know him. And that's YOUR loss.